Daniel Tiger for Parents
by PBS KIDS
Universal App - Designed for both iPhone and iPad.
App Description
Daniel Tiger for Parents empowers parents and caregivers with songs and videos from the hit PBS KIDS series Daniel Tiger's Neighborhood.

Is your child learning about sharing? Struggling with trying a new food? Working on what to do with mad feelings? Daniel Tiger for Parents has a song for these important social-emotional skills – and many more of life's little lessons!

Designed with busy parents in mind, the app is simple, educational and entertaining for caregivers and children. It features over two dozen Daniel Tiger songs, supporting videos from Daniel Tiger's Neighborhood, and helpful hints for parents about the important skills children need to be ready for school and life.

Features:
•Over two dozen of the most popular songs from Daniel Tiger's Neighborhood, covering important topics like feelings, self-control, and responsibility
•Over 60 video clips to watch and share with your child, modeling how Daniel Tiger and his family use these songs
•Over 90 conversation starters and tips for parents with practical ways to use Daniel Tiger songs in every day life
•A custom picture frame for each song to take photos, capture the moment, and share with friends and family
•Available in English and Spanish

Daniel Tiger for Parents is based on Daniel Tiger's Neighborhood, produced by The Fred Rogers Company. For decades, Fred Rogers and Mister Rogers' Neighborhood helped generations of parents and children navigate the ups and downs of everyday life. Daniel Tiger's Neighborhood and this app extend that philosophy to empower parents and caregivers with confidence in their ability to help their children learn important social and emotional skills.

Check out the other Daniel Tiger apps for children: "Daniel Tiger's Stop & Go Potty," "Explore Daniel Tiger's Neighborhood," "Daniel Tiger's Day & Night," "Daniel Tiger's Grr-ific Feelings," and "Play at Home with Daniel."

For more family fun with Daniel Tiger, visit pbskids.org/daniel

ABOUT PBS KIDS
Daniel Tiger for Parents is part of PBS KIDS' ongoing commitment to helping kids build the skills they need to succeed in school and in life. PBS KIDS, the number-one educational media brand for kids, offers all children the opportunity to explore new ideas and new worlds through television and digital media, as well as community-based programs.

Privacy
Across all media platforms, PBS KIDS is committed to creating a safe and secure environment for children and families and being transparent about what information is collected from users. To learn more about PBS KIDS' privacy policy, visit pbskids.org/privacy.

Rank in top paid apps
Ranking - Apps (iPhone) - United States
Updates
---
App Details
Current Version: 1.0.1
File Size: 53Mb
Users Rating: 3.50 (6 reviews)
App Overview
The Daniel Tiger for Parents app game is now available for free on iOS. The application is compatible with iOS 8.0 or later on the following devices: iPhone 6, iPad 3, iPad Mini and iPod Touch 5G or newer.
Download Daniel Tiger for Parents and use it on your iPhone or iPad (See button below). If you have an Android or Windows device, you can find links to download this app here.
Developer site: Support
Screenshots
iPhone
iPhone
iPhone
iPhone
iPhone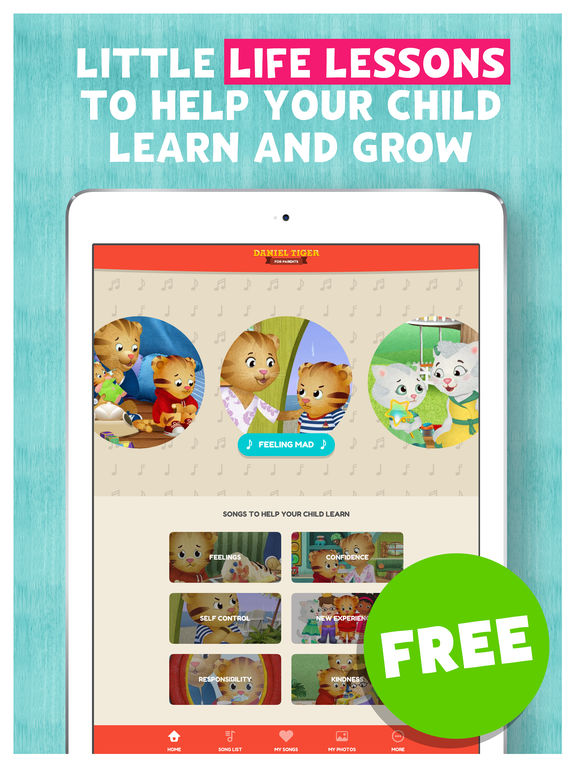 iPad
iPad
iPad
iPad
iPad
Daniel Tiger for Parents Has Add-Ons
No add-ons has been found...
We Love Daniel Tiger!

Perfect tool for a rough emotion

Daniel tiger is grrreat!

Songs

Thank you PBS!

Everything I hoped for and more

Great App, Please Add More Songs