Wi-Fi Widget
by Puppy Ventures, Inc.
"No More Wi-Fi Headaches"
Save time and frustration with the fastest way to see, test, and share your wi-fi, without even unlocking your iPhone.

MACSTORIES ***** "Why hasn't this been done before?"
LIFEHACKER ***** "Wi-Fi Widget does what it's supposed to do well."
APPADVICE ***** "A great tool for any iOS users... easily worth the price."

- SEE YOUR WI-FI - (FREE)
"No more waiting around for a page to load, then seeing a minute later that I'm on some random router named 'NETGEAR' with no internet. "


- SHARE PASSWORD - (FREE)
"A single tap to share my wifi network and password with a colleague visiting my home. From the lock screen!"


- SWITCH NETWORKS - (FREE)
"To switch from my living room wifi to my bedroom wifi, I just tap the widget and it takes me directly to Wi-Fi Settings."


- SPEED+LATENCY TEST - (PRO VERSION)
"How fast is my wifi? I get it by tapping the widget to get results in megabytes per second. It couldn't be easier."


- SECURE AND PRIVATE - (FREE)
Wi-Fi passwords are synced securely and privately through iCloud Keychain, so only you have access.

- 3D TOUCH - (FREE)
Put Wi-Fi Widget on your home screen for even faster access to your wi-fi summary and password sharing.



Since Wi-Fi Widget is accessible even from the lock screen, it's the fastest possible way to see, test, and share your wifi.

A few scenarios with and without Wi-Fi Widget:

1) "Why Google is taking so long to load??"
- WITHOUT: You seethe with anger and wonder how long you should wait until you throw your phone against the wall.
- WITH: Swipe down to Today and Wi-Fi Widget shows you you're connected to some random router named "NETGEAR" with no internet.

2) Your friend comes over and asks, "what's the wi-fi here?".
- WITHOUT: Find that scrap of paper somewhere with the 20 character long random string, dictate it multiple times to your friend and screwing up because "sorry, M, not N… and it's all capitalized… wait start over… okay never mind I don't really need the internet here."
- WITH: Swipe right from the lock screen and tap "Share" on Wi-Fi Widget.

3) You're wondering "is it just my crappy Comcast cable, or is this site actually down?"
- WITHOUT: You're like, "ARGH, NEVER AGAIN, COMCAST…"
- WITH: Swipe down to Today, tap Wi-Fi Widget. It immediately tells you either how quickly your connection can ping the internet, or "ERROR: Couldn't reach internet."



Why fight your wi-fi? Get the widget that saves you time and frustration.

Talk to us:
hello@getwifiwidget.com

Wi-Fi Widget App Details & Overview
Wi-Fi Widget is an application developed by Puppy Ventures, Inc. and released on iOS. The app is compatible with iOS 10.1 or later on the following devices: iPhone 7, iPhone 6, iPad Pro, iPad Mini and iPod Touch 6G or newer.
Download the Wi-Fi Widget app and use on your iPhone or iPad. Click here to download the app for Android or Windows devices.
Developer site: Support
What's new in version 1.0.2
- NEW FEATURE: See and share a list of all saved Wi-Fi networks - ENHANCEMENT: Better text legibility on widget - ENHANCEMENT: Landscape mode for iPad and iPad Pro - ENHANCEMENT: Improved onboarding and instructions - FIX: Localization fixes and updates
Rank in top paid apps
Ranking - Apps (iPhone) - United States
Wi-Fi Widget is a highly rated app with 4.5 stars.
$0.99 -> $1.99

Feb 8, 2017
---
App Data
Current Version: 1.0.2
File Size: 17Mb
Publisher:
Puppy Ventures, Inc.
Users Rating: 4.00 (998 reviews)
App Images
iPhone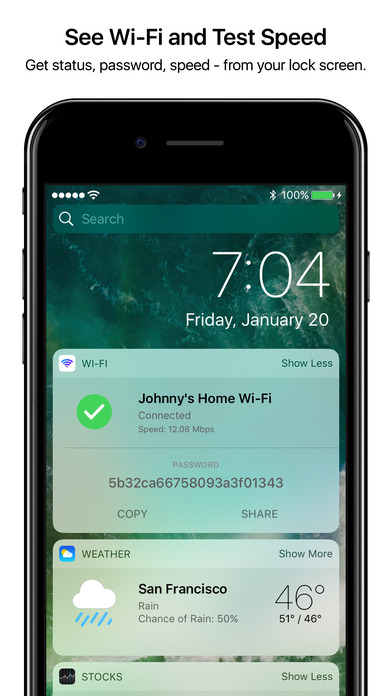 iPhone
iPhone
iPhone
iPhone
iPad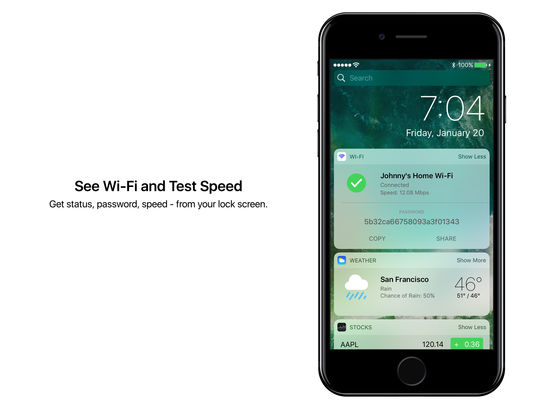 iPad
iPad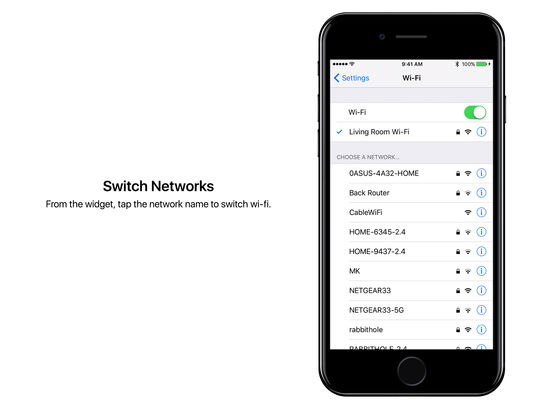 iPad
Wi-Fi Widget App Add-Ons
Note: Add-ons available as in-app purchases
The best
Idk
Convenient but promotes poor security
Amazing App!
1234
Pretty good
axr amn har qsache bkam 7aksakay dardache labar wa