Winter Animal Hunter 3D Full
by Game Maveriks
Universal App - Designed for both iPhone and iPad.
$2.99 > $0.99
App Description
Become a great hunter in our simulator! Choose the mode you like more - professional or open world and start your hunting adventures. Learn how to shoot and choose the best rifle you can afford. Hunt animals and birds from various points of the forest, win the trophy and enjoy it in the Hall of Fame. Do all hunting tasks, they are really challenging. Moreover, many tasks have special requirements - if you complete them you can earn even bigger reward!
Features of Winter Animal Hunter 3D:
Various viewpoints
Professional mode
Open World mode
Hall of Fame
Hunting shop
Realistic animal behavior
Vise economics system
Additional rewards for special missions
Different animals and birds
Many types of rifles
Different types of bullets
A lot of challenging missions
Winter Animal Hunter 3D lets you hunt the biggest and most dangerous animals in the world. With access to powerful rifles you will deep into hunting atmosphere! Train your shooting skills to kill and trap animals including bears, leopards, deer and even eagles. Additional tasks and rewards make the simulator even more challenging. Do it, win all trophies from the Hall of Fame!
Enjoy the winter forest locations and hunt for unpredictable animals! Their behavior is smart, if big predators see you, they can attack. Choose the best rifle to win the biggest reward and continue your hunting. Hunt from various locations and don't be upset is you lose. Just try again and you'll be the best animal hunter in the Hall of Fame!
Hunting wild animals here is free and fun! This game is a new real hunting and shooting experience which you might not been able to get in your real life if you hunting animals. Don't risk your life in the real forest! Challenge yourself in your simulator and try to be a hunter. Learn how to choose the best gun and do a lot of interesting missions in Winter Animal Hunter 3D.
Start your adventures right now! Hunt for real animals and be the best hunter!
What's new in version 1.01
minor improvements
Need help? Use our walkthrough or sign up and make your contribution today.
Rank in top paid apps
Ranking - Games (iPhone) - United States
The app is currently $0.99, instead of its regular price of $2.99.
Updates
$2.99 -> $0.99

May 25, 2017

$0.99 -> $2.99

May 21, 2017

$12.99 -> $0.99

May 18, 2017

$8.99 -> $12.99

May 13, 2017

$2.99 -> $8.99

May 11, 2017
View All Activity »
---
Game Overview
The Winter Animal Hunter 3D Full app game is now available for $0.99 on iOS. The app is compatible with iOS 7.0 or later on the following devices: iPhone 7, iPhone 6, iPad 3, iPad Mini and iPod Touch 5G or newer.
Download Winter Animal Hunter 3D Full and play on your iPhone or iPad. You can find links to download the app here.
Screenshots
iPhone
iPhone
iPhone
iPhone
iPad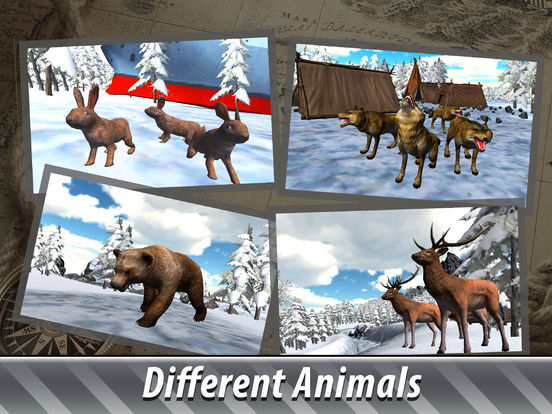 iPad
iPad
iPad
Winter Animal Hunter 3D Full Has Add-Ons
No add-ons has been found...