Cross Stitching Butterfly
Universal app (iPhone/iPod Touch & iPad)
Category: Games | Release Date: September 16, 2013
Rate this App!
App Details
Developer: Alexandr Seregin
Description
This unique game was developed as the request of a psychologist to help his patients to relax. The game gives you the joy of creativity and develops the sense of color and understanding of painting. Also it doesn't bother you with solving difficult puzzles. It perfectly helps you to spend your time if you're waiting for something.
Need help? Watch our Walkthrough or sign up and make your contribution today.
What's new in version 1.2
Adapted to iOS7 and fixed bugs.
Rank in top paid apps
Rankings - Games (iPhone)
App Changes
---
iOS Compatibility
Cross Stitching Butterfly requires iOS version 6.1 or later on the following device models: iPhone 6 ,iPhone 5 ,iPad 3 ,iPad Mini and iPod Touch 5G or newer.

Click the button below to download it from the iTunes store using your iPhone or visit the app's download page for android and other platforms.
Screenshots
iPhone
iPhone
iPhone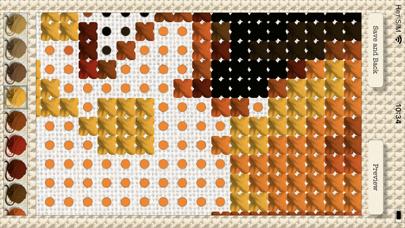 iPhone
iPhone
Our Verdict: Average!
5/10
Cross Stitching Butterfly is currently ranked #191 in the U.S. App Store.