Meet the Gods: Fire, Ice, Water, Air & Moon delivering you the Weather as you have never experienced it before. Weather Gods redefines the weather app with painstakingly crafted data visualizations, procedural graphics and audio that enable you to literally see, hear and feel the weather. With no more weather icons to decode, the Weather Gods is simply the quickest, most engaging, most enjoyable way to get the accurate weather information you need.

The Weather Gods skillfully integrates premium weather data into an elegant, iOS Exclusive, easy-to-use interface that will delight casual users and weather enthusiasts alike.

With a wealth of rich weather data from the world's most respected providers, the Weather Gods provide detailed site-based forecasts for over a million locations worldwide. Our advanced, next-generation notifications are easy to setup and bring you exactly the information you want right when you need it.

With 24 hour charts, observed weather, built in moon phase, widget, world clock and much, much more, the Weather Gods is a powerful personal time machine that lets you travel the world and visit the future. Please come join us on this exciting journey as we begin our mission to bring you the finest, most practical, most enjoyable weather app experience ever. We can't wait to hear what you think!

Features

* Day & Night summary for 7 Days with animated real-time weather backgrounds
* 7 Day HOURLY Forecast via the amazing 'Weather Wheel'
* Advanced user-friendly weather notifications
* Weather based procedural soundscape
* Detailed 24 hour charts & hourly charting
* Moon phase, rise and fall
* Observational (past) data
* Off-line mode for explorers & professionals
* World clock & international support
* Powerful accessibility support
* Dashboard Widget
* 3D Touch Menu
* Taptic Engine support
* Combining the best global weather data sources available
* Over 1 million weather-accurate locations
* Complimentary 32 x sticker pack

Note: Continued use of GPS running in the background can dramatically decrease battery life.

Weather Gods App Details & Overview
Weather Gods is an application developed by Meyume and released on iOS. The app is compatible with iOS 10.0 or later on the following devices: iPhone 7, iPhone 6, iPad 3, iPad Mini and iPod Touch 5G or newer.
Download the Weather Gods app and use on your iPhone or iPad. Click here to download the app for Android or Windows devices.
What's new in version 1.3.1
NEW: Seven day hourly charts NEW: Seven day hourly voiceover timeline NEW: Follow me weather; update the weather as you travel around NEW: Feels like temperature; globally applied throughout the app (change in settings) NEW: Smart voiceover weather forecasts in the Weather Wheel; we prioritise and grade the weather on an hour by hour basis NEW: Localised for Spanish UPDATE: Smarter location management. We now try and load a preferred location UPDATE: Improvements to the sunrise and sunset transitions UPDATE: Voiceover counts down the minutes until sunrise or sunset UPDATE: Weather Gods time locked to the device time UPDATE: Sleet notification improved UPDATE: Weather wheel usability improvements with voiceover; no more tapping to hear the weather UPDATE: Voiceover no longer speaks the temperature units UPDATE: Voiceover provides hints for new users searching for a location UPDATE: UV index added to voiceover announcements about ultraviolet rays UPDATE: Switched to using push notifications from IBM UPDATE: Greek localisation UPDATE: Handle missing observations UPDATE: Improve the way we handle the daylight saving transition UPDATE: You can now have SEVEN favourite locations UPDATE: Voiceover now identifies if a location is a GPS location FIX: Correctly handle data from Vostok, Antartica FIX: Air chart crashes during daylight saving transition App Store ratings are reset with every new version, so if you are enjoying this app, and have a moment spare, please leave us a review. Every rating helps. Many thanks.
Rank in top paid apps
Ranking - Apps (iPhone) - United States
Weather Gods is a highly rated app with 4.5 stars.
Initial release v1.3.1

Nov 3, 2016
---
App Data
Current Version: 1.3.1
File Size: 241Mb
Users Rating: 4.50 (39 reviews)
App Images
iPhone
iPhone
iPhone
iPhone
iPhone
iPad
iPad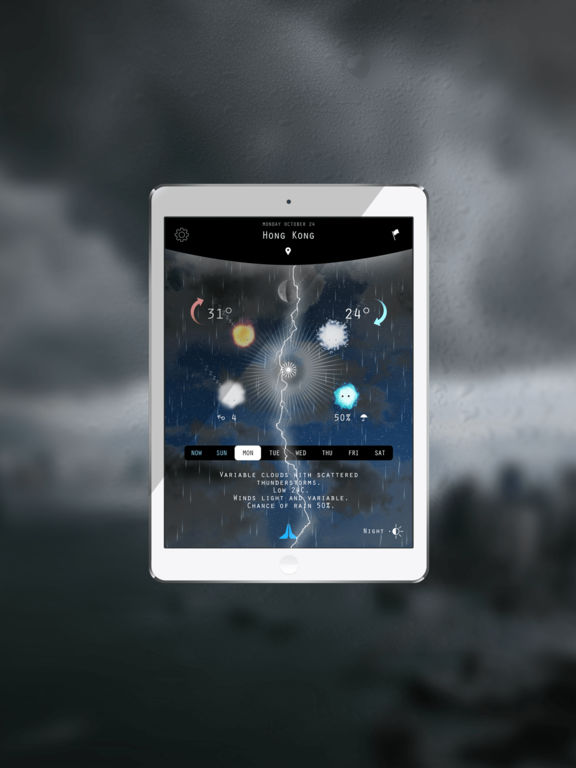 iPad
iPad
Weather Gods App Add-Ons
No add-ons has been found...
Great features and attention to detail
Excellent
Love Weather Gods
Brian McLain
Fun and easy to use w voiceover.
Just awesome
A sound fan's weather app