1943 Deadly Desert Premium
by HandyGames
Universal App - Designed for both iPhone and iPad.
App Description
North Africa 1943. Lead your forces to victory in the most intense WW2 battle!
Action-packed World War 2 battles for the desert territories await you. Your ingenuity and leadership skills as general will determine victory or defeat. Will you survive the toughest fight in history?
"1943 – A hot, dusty wind sweeps through the camp. Scouts report of heavy Wehrmacht forces. The Desert Fox is rapidly pushing towards the western oasis. All combat-ready British troops are on high alert to fend off the invasion. At the same time, the Axis powers are preparing the assault on a vital resupply center. En route to their next battle, with heavy tanks, artillery and supply vehicles. Which side will you choose?"
TOTAL WORLD WAR
This is the decisive World War II battle between the Allied forces and the Axis powers! Choose your path and lead your army to victory!
TURN-BASED TACTICAL WARFARE
The right war strategy is the key to the ultimate victory! Issue orders to your officers on the battlefield. They'll motivate, inspire and strengthen the troops assigned to their command!
DANGEROUS MISSIONS
Become the greatest general of all time and prove your tactical skills in plenty of different war campaigns! Unlock new missions, maps and scenarios!
MASSIVE WEAPON ARSENAL
Your tactical possibilities are nearly limitless. Fight with tanks, warplanes, infantry, paratroopers, artillery and many other powerful special forces and weaponry!
VARIETY OF BATTLEFIELDS
Break through the enemy lines by land and air! Lead your soldiers into battle and crush your enemies on the historical battlefields of Africa!
STRATEGY AT ITS BEST
Even more new units for your tactical genius! Order devastating air strikes or command a forced march. The stakes are high, but the prize of a glorious victory awaits!
Features:
PLAY WITHOUT ADS!
Turnbased strategy action in WW2
Thrilling campaigns and challenging missions
Continuously updated Quests with fantastic rewards
A must have for every strategy game fan
Many different military units
PassandPlay multiplayer battles
Detailed graphics and epic sounds
Game Center support
Thank you for playing '1943 Deadly Desert'!
Get in touch with HandyGamesTM: www.handy-games.com
Join us on Facebook: HandyGames
Stay tuned on Google+: HandyGames
Subscribe to our YouTube channel: HandyGames
Check news on Twitter: @handy_games
Follow us on Instagram: handygames
© www.handy-games.com GmbH
What's new in version 1.1.0
New Axis campaign "Strong Winds"
Need help? Use our walkthrough or sign up and make your contribution today.
Rank in top paid apps
Ranking - Games (iPhone) - United States
1943 Deadly Desert Premium is currently ranked #199 on the iOS store in united states.
Updates
---
Game Overview
The 1943 Deadly Desert Premium app game is now available for $3.99 on iOS. The application is compatible with iOS 8 or later on the following devices: iPhone 7, iPhone 6, iPad 3, iPad Mini and iPod Touch 5G or newer.
Download 1943 Deadly Desert Premium and play on your iPhone or iPad (See button below). If you have an Android or Windows device, you can find links to download this app here.
Developer site: Support
Screenshots
iPhone
iPhone
iPhone
iPhone
iPhone
iPad
iPad
iPad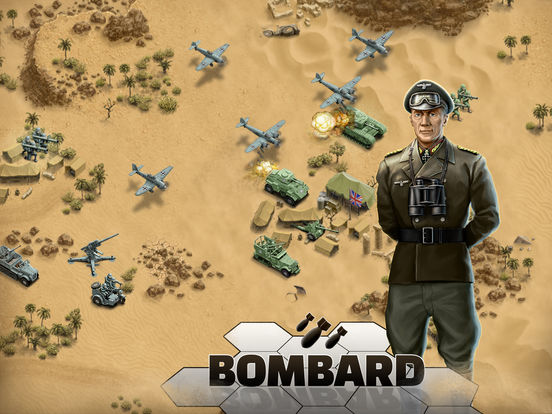 iPad
iPad
1943 Deadly Desert Premium Has Add-Ons
Note: Add-ons available as in-app purchases