Toca Hair Salon 3
by Toca Boca AB
Universal App - Designed for both iPhone and iPad.
App Description
Welcome to Toca Hair Salon 3! Our most popular app series returns, better than ever! What do you feel like creating today — something quirky, pretty or edgy? Choose your character from dozens of looks that you can customize — characters have randomized styles and personalities, which creates endless play opportunities! Grab your tools and get styling!
AMAZINGLY REALISTIC HAIR
The hair in
Toca Hair Salon 3
looks and moves like real hair! You can style silky straight hair, bouncy waves, crinkly curls, and for the first time in the Toca Hair Salon series: kinky hair! This super-curly hair type means you can create fluffy 'fros and other natural hairstyles.
AWESOME STYLING TOOLS
No salon would be complete without the right tools!
Basics: Of course you'll find everything for a good wash, including shampoo and a blow dryer. You'll also find scissors, clippers, a razor, a brush and a multipurpose combing tool to use on your client's hair. In case you cut off a little too much, we've brought back our amazing grow tonic to regrow hair — definitely customer pleaser!
Hair types: The electric styling tools let you move between the different hair types to get just the right look.
Braids: Use the brand-new braiding tools for more styling options! You can make thick braids or thin braids!
Beards: Visit the beard station for the best in beard-grooming (or growing!). Lather up with shaving cream, then use scissors, clippers or a razor to get just the right length. Every character can have a beard!
Color: Ready for some color?
Toca Hair Salon 3
introduces a more advanced hair color tool with two different cans for different sized sprays. And the new rainbow spray lets you create the most colorful styles you can imagine!
CLOTHES AND ACCESSORIES
Now characters can change into different clothes! Try on new looks to suit that new hair style! Accessorize the look with glasses, caps, headbands and silly stuff. Choose a photo booth background and take a picture to save to your device and share!
FEATURES
Allnew characters with dozens of starter styles
Straight, wavy, curly and now kinky hair!
All the tools you need to create the style you want!
New braiding tool!
Every character can grow a beard to style
More advanced hair color tool: Dipdye and fade hair in any colors you want!
Change clothes on characters!
Dozens of new accessories: hats, glasses, jewelry and more
Change backdrops in the photo booth!
Snap a picture in the app and share with your friends!
Genderneutral aesthetic: Unlike most hairstyling apps, all kids are welcome to play!
No time limit or high scores — play for as long as you like!
No thirdparty advertising
ABOUT TOCA BOCA
Toca Boca is an award winning game studio that makes digital toys for kids. We think playing and having fun is the best way to learn about the world. Therefore we make digital toys and games that help stimulate the imagination, and that you can play together with your kids. Best of all - we do it in a safe way without third-party advertising or in-app purchases.
PRIVACY POLICY
Privacy is an issue that we take very seriously. To learn more about how we work with these matters, please read our privacy policy:
http://tocaboca.com/privacy
What's new in version 1.2
Valentine's Day is over — update the app to blow out all cozy candles and pop the balloons! In this update we'll bring the original theme back. Want to keep a few things? We thought so! ● All accessories & clothes will stay ● All the backgrounds in the photo station are saved Love Toca Hair Salon 3 or have ideas for improvements? We'd love to hear from you! Contact us on YouTube, Instagram, Twitter or Facebook. We're @tocaboca.
Rank in top paid apps
Ranking - Apps (iPhone) - United States
Toca Hair Salon 3 is currently ranked #62 on the iOS store in united states.
Toca Hair Salon 3 is a highly rated app with 4.5 stars.
Updates
---
App Details
Current Version: 1.2
File Size: 123Mb
Users Rating: 4.50 (23 reviews)
App Overview
The Toca Hair Salon 3 app game is now available for $2.99 on iOS. The app is compatible with iOS 7.0 or later on the following devices: iPhone 7, iPhone 6, iPad 3, iPad Mini and iPod Touch 5G or newer.
Download Toca Hair Salon 3 and use it on your iPhone or iPad (See button below). You can find links to download the app here.
Developer site: Support
Screenshots
iPhone
iPhone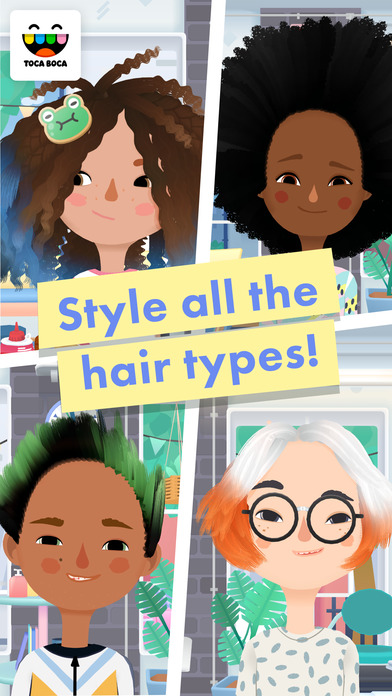 iPhone
iPhone
iPhone
iPad
iPad
iPad
iPad
iPad
Toca Hair Salon 3 Has Add-Ons
No add-ons has been found...
It is great but...

BEST APP EVER IN THE HOLE WORLD

So Fun!❤️

Best. App. Ever.

Fun For Everyone

It's super fun but it needs more!!

Awesome but needs more