Partly Sunny
by Joseph Hribar
Partly Sunny shows your weather in quick glances and detailed looks.

Need to quickly see if there will be rain at home or at work today? Need to check the wind or UV index over the next few hours? Need to look at the forecast for the upcoming weekend? Partly Sunny has you covered.

Partly Sunny features:
• Quick glances of what's happening in the sky at your current location and your favorite locations.
• Detailed looks at forecasts to show what's happening throughout the hour, the day, and the week at your locations.
• Hour-by-hour graphs that plot temperature, chance of precipitation, cloud cover, humidity, UV index, wind, or more.
• Day-by-day chart that plots high and low temperatures throughout the week.
• U.S. & U.K. locations: precipitation-intensity graph for the next hour when it's raining or snowing.
• U.S. locations: links to pollen forecasts and NOAA weather offices for winter-weather predictions, tropical forecasts, marine forecasts, and more.
• A widget to show both a quick glance and a detailed look at your selected location's forecast.
• A light theme and a dark theme.
• Versions for both iPhone and iPad.
• Location renaming and fine-tuning.
• 3D Touch: app-icon widget and shortcuts. Peek and Pop in List View; Location View's severe-weather alerts, pollen-forecast, and NOAA buttons; and the day-by-day chart.
• URL scheme: partlysunny://, partlysunny://currentlocation, and partlysunny://addlocation.
• Powered by Dark Sky.

Partly Sunny has been featured in Apple's "New Apps We Love", MacStories, AppAdvice, and Lifehacker.

Partly Sunny "introduces a robust, beautiful new way to view weather information. […] What's immediately striking about Partly Sunny's design is that it feels designed to belong in iOS. It's an app that feels built by Apple if the company decided to make a massive iterative change to its own stock Weather app." – MacStories

"If you are looking for minimalism in your weather app, then Partly Sunny will satisfy your cravings. […] Partly Sunny offers the information you need in a concise and flexible way." – AppAdvice

Partly Sunny App Details & Overview
Partly Sunny - Weather Forecasts is an application developed by Joseph Hribar and released on iOS. The app is compatible with iOS 10.0 or later on the following devices: iPhone 7, iPhone 6, iPad 3, iPad Mini and iPod Touch 5G or newer.
Download the Partly Sunny app and use on your iPhone or iPad. Click here to download the app for Android or Windows devices.
What's new in version 1.2.1
• New app icon! It's now more Partly Sunny! • Daily forecasts in the app and widget can now display chance of precipitation, amount of precipitation, or both (selectable in Settings). • The precipitation data under hour-by-hour graphs is now customizable to show chance, amount, or both (selectable in Settings). • Precipitation Intensity is now an option for hour-by-hour graphs. The day's precipitation type will determine whether a rain-intensity graph or snow-intensity graph is displayed. Tap the graph to try it out! • Widget performance improvements. • Severe-weather-alert descriptions now include affected regions. • In List View, if you don't want to or can't reach for the Settings or Edit Locations buttons, you can now swipe from the left edge of the screen to open Settings and swipe from the right edge to open Edit Locations. • Views that fly up from the bottom of the screen (like Settings and Edit Locations) can now be dismissed by swiping from the left edge of the screen (in addition to tapping the Done button at the top of the view or tapping outside the view on iPad). • Other miscellaneous Settings tweaks. If you have a question or suggestion, please send it to support@partlysunnyapp.com. If you're enjoying Partly Sunny and have a moment, please leave a new rating or update/resubmit a previous rating on the App Store. Your support is appreciated and helps Partly Sunny get discovered!
Rank in top paid apps
Ranking - Apps (iPhone) - United States
Partly Sunny is a highly rated app with 4.5 stars.
Initial release v1.2.1

Nov 16, 2016
---
App Data
Current Version: 1.2.1
File Size: 20Mb
Users Rating: 4.50 (13 reviews)
App Images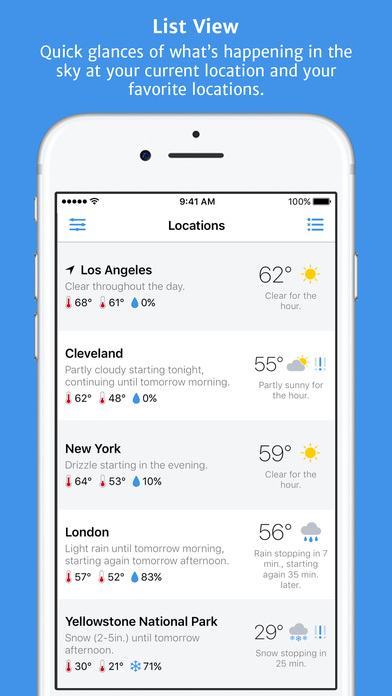 iPhone
iPhone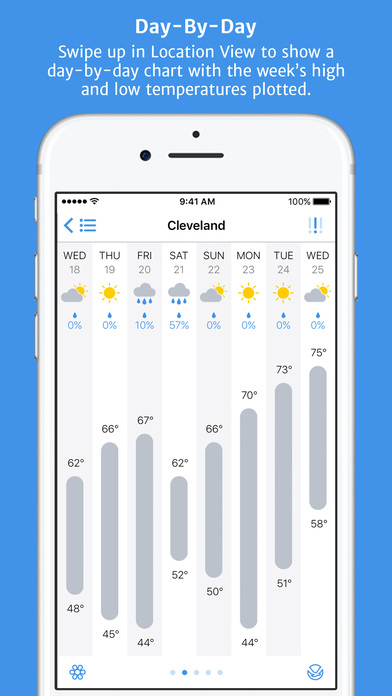 iPhone
iPhone
iPhone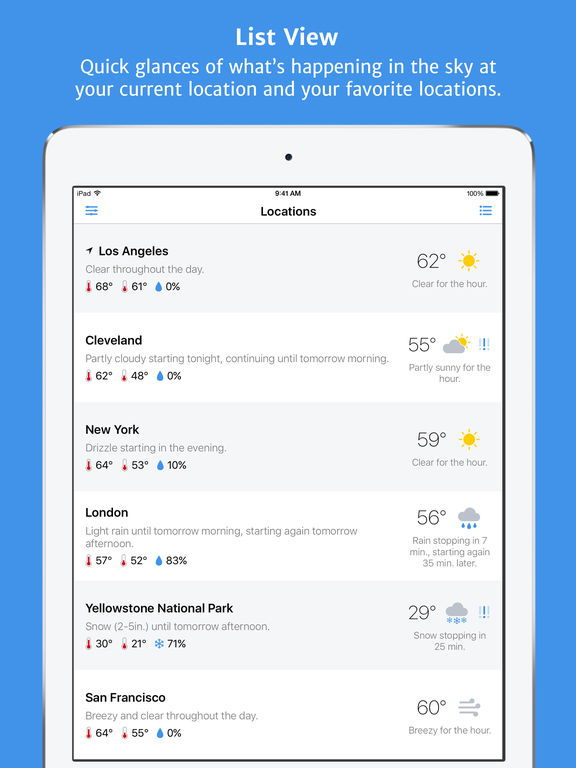 iPad
iPad
iPad
iPad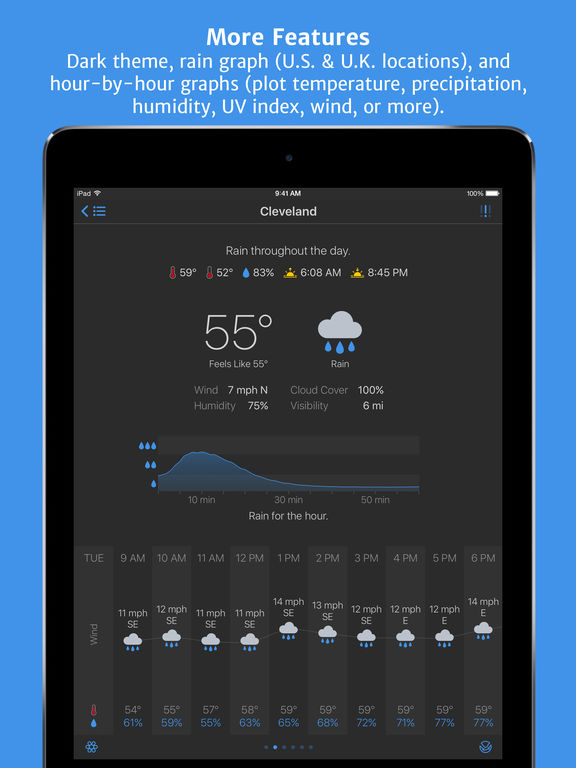 iPad
Partly Sunny - Weather Forecasts App Add-Ons
No add-ons has been found...
Good looks, semi questionable execution.
This app is beautiful
Favorite weather app, but missing radar
The Best Weather App & Widget
Needs better radar!!!
Good App, Bad Icon!
Perfect