Space by Tinybop
by Tinybop Inc.
Universal App - Designed for both iPhone and iPad.
App Description
*** KAPi Best App for Older Children ***
*** Children's Technology Review Editor's Choice ***

Explore our solar system! Travel into space and visit tiny Mercury, fierce Venus, friendly Earth, dusty Mars, stormy Jupiter, elegant Saturn, hazy Uranus, and mysterious Neptune.

"Space should more accurately be called "Hands On With the Solar System." — Children's Technology Review

Hurl meteorites through the atmosphere. Spin around the sun and zoom onto its surface. Jump into a whirling space storm. Boldly go where no kid has gone before in 3, 2, 1…. liftoff!

Space is No.8 in Tinybop's award-winning Explorer's Library. Kids can discover new worlds in other Explorer's Library apps, including The Human Body, Plants, Simple Machines, The Earth, Weather, Homes, and Skyscrapers.

FEATURES
+ Visit 8 planets and the sun!
+ Study the surface of each planet and the sun up close.
+ Discover the characteristics of each planet with a helpful snowman.
+ Throw meteorites at each planet to test their atmospheres and gravity.
+ See how big and massive each planet and the sun are by comparing them side-by-side.
+ Play with and observe each planet's orbit around the sun.
+ Follow the moon's orbit to discover the phases of the moon.
+ See how quickly or slowly each planet spins on its axis and how long each day is.
+ Peek inside each planet's rocky crust or gassy outer layer.
+ Move the Earth's axis to see how it affects seasons.
+ Explore Mars' rocky surface with NASA's Curiosity.
+ Experience wild weather and more on Venus.
+ Find out why Mercury has so many craters.
+ See what Saturn's rings are made of and make them spin.
+ Discover diamonds on Neptune and Uranus.
+ Interactive text labels in 50+ languages teach vocabulary.
+ FREE Space Handbook has technology tips and basic info for teachers and parents.
+ Original artwork by Jessie Sattler.
+ Original sound design.
+ Open-ended activities with no rules. Curiosity and creativity are rewarded.
+ Multi-user system.
+ Fun for all ages.
+ No third-party advertising.

What's new in version 1.0.3
Basic spacecraft maintenance.
Rank in top paid apps
Ranking - Apps (iPhone) - United States
Space by Tinybop is a highly rated app with 4.5 stars.
Updates
---
App Details
Current Version: 1.0.3
File Size: 318Mb
Users Rating: 4.50 (3 reviews)
App Overview
The Space by Tinybop app game is now available for $2.99 on iOS. The application is compatible with iOS 7.0 or later on the following devices: iPhone 7, iPhone 6, iPad 3, iPad Mini and iPod Touch 5G or newer.
Download Space by Tinybop and use it on your iPhone or iPad (See button below). If you have an Android or Windows device, you can find links to download this app here.
Developer site: Support
Screenshots
iPhone
iPhone
iPhone
iPhone
iPhone
iPad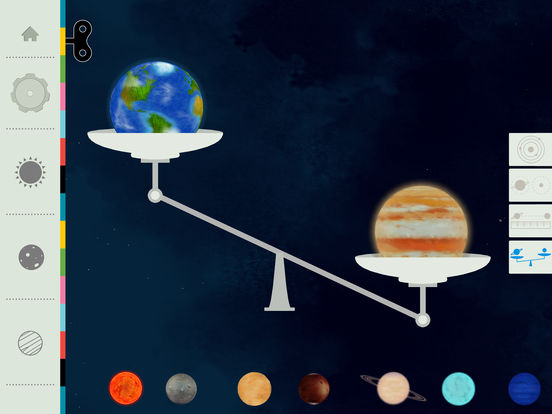 iPad
iPad
iPad
iPad
Space by Tinybop Has Add-Ons
No add-ons has been found...
Truly impressive app

Beautiful and full of science

The Solar System in your pocket

Rocket Phobias

Beautiful App about Space!

Stunning creative and illustrations

Fantastic interactive solar system