NEW: "Vehicle" tab, trip statistics, parking search near destination, and more. Check the What's New section below for the full details.

Stay on time, in touch, and in control with the new, all-in-one BMW Connected. Avoid traffic, share arrival times with friends, and unlock your BMW remotely. Plus, the more you use it, the better it gets.

What can BMW Connected do for you?


Personalize itself to your needs by learning your driving patterns over time
Organize your frequent destinations and upcoming trips all in one place
Monitor traffic so you don't have to, and alert you when it's the best time to leave

And with an active BMW ConnectedDrive subscription, the app will:


Show you where you last parked so you can find your BMW with ease
Send quick messages to let family and friends know what time to expect you
Lock or unlock your BMW, or turn on the ventilation system, from anywhere
For BMW i and iPerformance models, show your vehicle range, battery status, and nearby charge stations
And much more (explore the app!)

Get ahead of the curve – download BMW Connected now to meet your new personal mobility companion. Enjoy it on your iPhone, Apple Watch, and Alexa device, and keep an eye out for more features soon. This journey's just beginning.

Remote How-To: https://youtu.be/aA5hpIFnPzw
Remote How-To (BMW i & iPerformance): https://youtu.be/9_Shw6R_wm8
Unlock How-To: https://youtu.be/UYFGBfXfm9o

And now, a bit of fine print:

BMW Connected is optimized for 2014 and newer vehicles. While the app's features will function as expected on many 2013 and earlier vehicles, some vehicles may be incompatible with certain services.

Usage of the app is based on the general contractual and usage conditions for BMW ConnectedDrive. For further information on the wide range of services offered by BMW ConnectedDrive and BMW Connected, please also consult our webpages at www.bmw.com/connecteddrive and www.bmw.com/getconnected. Please refer to www.bmw.com/bluetooth regarding the compatibility of your smartphone with BMW cars.

A mobile Internet connection is required. This can incur costs (for example due to roaming) in accordance with the contract concluded between the customer and the network operator.

Please observe national requirements and conditions specific to the country you are in. For the aforementioned reasons, BMW is unable to warranty unrestricted compatibility and functionality of your mobile device in combination with the vehicle interface. The application is displayed in the car in the language configured for the vehicle.

Continued use of GPS running in the background can decrease battery life. If you experience significant battery drain while using BMW Connected, select the lower battery usage option in the Settings menu.

BMW Connected North America App Details & Overview
BMW Connected North America is an application developed by BMW and released on iOS. The app is compatible with iOS 9.3 or later on the following devices: iPhone 7, iPhone 6, iPad 3 and iPad Mini or newer.
Download the BMW Connected North America app and use on your iPhone or iPad. Click here to download the app for Android or Windows devices.
What's new in version 4.3
Thanks to your feedback, this version includes: - Better address detection when importing calendar appointments - Improved calendar sync between the phone and the in-car screen - Stability fixes to reduce the occurrence of app crashes - Other minor bug fixes Enjoy BMW Connected, and please keep sharing your feedback from within the app. We'll continue to use your input to make the app more valuable to you with each release.
Rank in top paid apps
Ranking - Apps (iPhone) - United States
Initial release v4.3

Mar 31, 2016
---
App Data
Current Version: 4.3
File Size: 220Mb
Users Rating: 2.00 (1 reviews)
App Images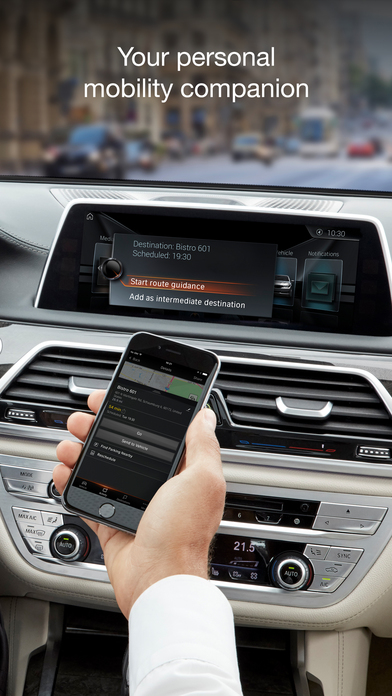 iPhone
iPhone
iPhone
iPhone
iPhone
BMW Connected North America App Add-Ons
No add-ons has been found...
BMW Connected North America Reviews (See all reviews)
Unable to add my car
Good app but issue with vehicle in motion
Great App BUT
iOT Enthusiasts Dream
Good but slow
Worked before - not now. I guess QA testing does n
Works as it Should