Challenge yourself to fly and land an F35C on the USS Gerald R. Ford! It's every pilot's dream!

F35 Carrier Landing delivers near 100% simulation of the aerodynamic behavior of F-35C LightingII the first Stealth fighter of US NAVY. In the game, aircraft control is using an FBW system (Fly by wire flight control system) which is widely used by modern military aircraft. We use the most advanced flight control algorithms to implement the flight control system, as much as possible under existing references. With 100% real landing gear dynamic calculations, you can see in the preview video that touchdown dynamic performs very close to real video footage. We also implemented arrest wire dynamic simulation, which is not seen even in high-end PC flight simulation games. The game also supports screen recording(iOS 9 or later) so you can share your precise flying skills.
In future updates, more carriers and carrier-based aircraft will be added.
Enjoy the game that's the closest to a real military flight simulator.

Due to the game's high-precision models and high-quality textures, please make sure your​ device meets the minimum requirements:
>>MINIMUM DEVICE REQUIRED iPhone 5s/iPad Air/iPad Mini 2<<

FEATURES

1. Highly detailed and accurate 3D models and textures
2. Realistic aerodynamics simulation
3. Photorealistic rendering
4. 100% realistic looking and functioning HUD
5. Accurate grade system after landing
6. View replays of your landing with 8 shocking film-like cameras
7. Screen record and share(iOS 9 or later)
8. Cardboard VR support



FUTURE ROADMAP

1. More Carrier - based aircraft including F18C Hornet, F14 tomcat, A6 Intruder, X47B, Rafale m, Su33, J15
2. More aircraft carrier

Need help? Use our walkthrough or sign up and make your contribution today.
F35 Carrier Landing HD App Details & Overview
F35 Carrier Landing HD is a simulation video game for iOS, developed by HandyPadSoft. The app is compatible with iOS 8.0 or later on the following devices: iPhone 7, iPhone 6, iPad 3, iPad Mini and iPod Touch 5G or newer.
Download the F35 Carrier Landing HD app and play on your iPhone or iPad. Click here to download the app for Android or Windows devices.
Developer site: Support
What's new in version 1.85
Added the visibility option, implement using variable density fog with air scatter effect, at high altitude you can see the earth was shrouded in fog. New seawater shader. Added random tips while loading. Added the camera auto return switch option. Enhanced rendering effect of St. Nicholas Island scenery. Enhanced scenery clouds. Fixed the bug that manual throttle output range was wrong. Fixed the gap between the arresting wire and the tail hook. Fixed the aircraft deviation problem while catapult take-off. Fixed a bug in the playback mode when the camera automatically switches will cause the HUD disappear.
Rank in top paid apps
Ranking - Games (iPhone) - United States
F35 Carrier Landing HD is a good rated app with 4.00 stars.
The app is currently $2.99, instead of its regular price of $4.99.
$4.99 -> $2.99

Apr 18, 2017

$4.99 -> $2.99

Apr 18, 2017

$2.99 -> $4.99

Apr 18, 2017

$2.99 -> $4.99

Jan 31, 2017

$4.99 -> $2.99

Jan 28, 2017
---
App Data
Current Version: 1.85
File Size: 283Mb
Users Rating: 4.00 (9 reviews)
App Images
iPhone
iPhone
iPhone
iPhone
iPhone
iPad
iPad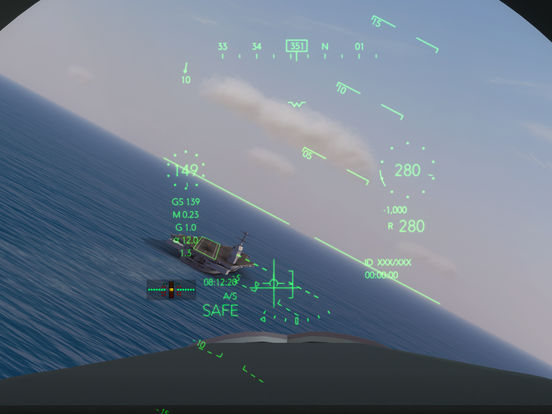 iPad
iPad
iPad
F35 Carrier Landing HD App Add-Ons
No add-ons has been found...
F35 Carrier Landing HD Reviews (See all reviews)
Fantastic!
Awesome flight sim!
Wonderful game!!!
Jerky as hell
Great, so far!
This is great!
Wow! Love this!!!