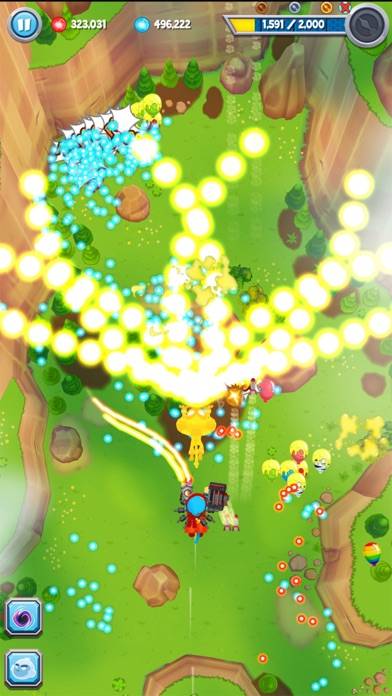 Bloons Supermonkey 2
Universal app (iPhone/iPod Touch & iPad)
Category: Games | Release Date: November 1, 2016
Rate this App!
Description
2 day sale - 66% off! Saturday and Sunday only!

Endless legions of colorful bloons in outlandish shapes and patterns are invading Monkey Town and only Super Monkey can stop them! Equip dozens of powerful weapons, unlock never-before-seen Super Monkeys, and use dozens of screen-clearing powerups to pop every bloon and achieve a perfect diamond ranking.

* Fast-action, pop everything fun-fest
* 50 vibrant levels, each with unique bloon waves
* Colorful, easy to control family fun for new gamers
* Intense skill-based diamond challenges for hardcore players
* 90+ weapons including epic powers like Doom Gauntlets, Sidewinder Ace, and Yeti
* 40+ bloon shredding powerups like Explosive Shots, Parallel Universe Monkey, and the Sun God
* Compare level ranks with your friends
* Awesome free iMessage stickers included

Enjoy this Limited Time Offer now, and get popping!

-----------

Ninja Kiwi Notes:
Bloons Super Monkey 2 contains in-game items can be purchased with real money. You can disable in-app purchases in your device's settings, or reach us at support@ninjakiwi.com for help. Your purchases fund our development updates and new games, and we sincerely appreciate every vote of confidence you give us with your purchases.

Ninja Kiwi Community:
We love hearing from our players, so please get in touch with any feedback, positive or negative, at support@ninjakiwi.com. If it's stuff you want the whole community to talk about, then join us on Facebook or Twitter:
https://www.facebook.com/ninjakiwigames/
https://twitter.com/ninjakiwigames

Youtubers and Streamers:
Ninja Kiwi is actively developing, supporting, and promoting channel creators on YouTube, Twitch, Kamcord, and Mobcrush. If you are not already working with us, keep making videos and tell us about your channel at youtube@ninjakiwi.com.
Need help? Watch our Walkthrough or sign up and make your contribution today.
What's new in version 1.2.1
Bug fixes and performance improvements. Check out the new Change Log in game for full details.
Rank in top paid apps
Rankings - Games (iPhone)
App Changes
Version 1.2

Mar 14, 2017

$0.99 -> $2.99

Mar 12, 2017

$2.99 -> $0.99

Mar 10, 2017

$0.99 -> $2.99

Jan 13, 2017

$0.99 -> $2.99

Jan 11, 2017

$2.99 -> $0.99

Jan 11, 2017

Version 1.1

Dec 20, 2016

Version 1.0.3

Nov 11, 2016

Version 1.0

Nov 5, 2016

Version 1.0.2

Nov 4, 2016
View price changes »
---
iOS Compatibility & Supported Devices
Bloons Supermonkey 2 requires iOS 8.0 or later, and supported on the following devices: iPhone 7 ,iPhone 6 ,iPhone 5 ,iPad 3 ,iPad Mini and iPod Touch 5G or newer.

Click the button below to download it from the iTunes store using your iPhone or visit the app's download page for android and other platforms.
Screenshots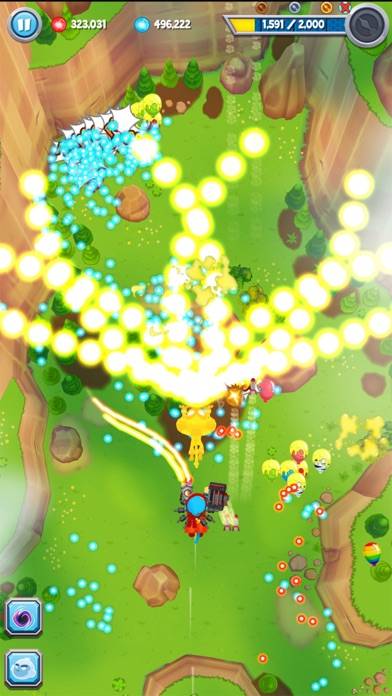 iPhone
iPhone
iPhone
iPhone
iPhone
Our Verdict: Average!
6/10
Bloons Supermonkey 2 is a highly rated game with 4.5 stars.
Bloons Supermonkey 2 is currently ranked #177 in the U.S. App Store.
Keep the updates coming!

Originally purchased this app for two dollars before the recent two updates were released, I'm super excited to see what...
Good all around, but...

This is a good game. Ninja Kiwi make a super monkey 3. Though it is good Make a 2D super monkey...
Great to pass the time

I absolutely love it
Technical support & help
Having trouble with the game? Report issues and get help here.