Track and trace your golf ball flight in the air!

Key Features:

+ Shot Tracer
+ Map Tracer (in-app subscription)
+ Trace multiple shots in one video.
+ Patented track and trace technology.
+ Add distance and club information to your Shot Tracer video.
+ Measure total golf shot distance using GPS.
+ Use voice to control camera.
+ Use front or rear camera to record video.
+ Import previously recorded videos.
+ Slow motion video export.
+ Compatible with 30, 60, 120 and 240 FPS.
+ Compatible with 720p, 1080p and 4K video.
+ Export 720p, 1080p Full HD and 4K.
+ Fully customize color and width of your Shot Tracer line.
+ Automatic smart video trimming.
+ Add shadow effect.
+ Swing Tracer.
+ Putt Tracer.
+ Fire Swing Tracer.
+ Add hollywood quality special effects to your Shot Tracer.
+ Explosion effect.
+ Water splash effect.
+ Impact smoke cloud effect.
+ No water marks.
+ No internet connection required.
+ Many more awesome features!

New:

MAP TRACER!
+ Trace your golf shot on the map.
+ Use GPS data saved in videos to automatically set map points.
+ Manually set map points.
+ Amazing 3D ball flight animation.
+ Use of the newest high definition maps.
+ Distance counter.
+ 3D Map and trajectory settings.
+ 16:9 and also 1:1 video format, perfect for Instagram videos!
+ Available as in-app subscription for only 0.99USD per month!
+ 7 day free trail!

Ball Tracer and Putt Tracer!

Whereas Shot Tracer tracks and traces ball flight during long shots, Ball Tracer makes your ball flight on short shots like pitch/chip shots, bunker shots and putts visible.

It does so by generating a strobe motion video sequence of the the actual ball flight and roll!

General Information:

All you need is your iPhone or iPad! Simply record your golf shot and only mark the landing spot and the app does the rest using our patented computer vision technology!

The app will trace your shot from the beginning until the end and save it in your phone's gallery ready to share with your friends.

The app traces the ball as long as it can see it. So make sure you set the set the camera so it sees the ball as long as possible.

Sometimes you might get a bad trace so we added manual mode with which you can manually build a trace.

Note: Achieve best results when keeping the phone very steady while recording, so using a tripod is not mandatory but recommended.

Otherwise there is no additional hardware required!

Like anything in life practice makes perfect!

We appreciate your feedback so please reach out to us at support@visual-vertigo.com with any feedback and comments how we can improve the app!

**The Swing Tracer feature is available for two trials for free. After that you can do an in app purchase to unlock the Swing Tracer feature.

Battery use disclaimer:

This application uses GPS in the background.
Continued use of GPS running in the background can dramatically decrease battery life.
This application uses Speech recognition only when activated in the camera tab of the app.
Using speech recognition for longer periods of time can diminish the battery life on your device.


Payment will be charged to the credit card on your iTunes Account at time of purchase. Your subscription will automatically renew following your Free Trial Period unless auto-renew is turned off at least 24 hours before the end of the current period. You can manage your subscription or turn off auto-renew in your iTunes Account Settings after purchase. If you turn off auto-renew in the middle of a subscription period, you will still have access to all Map Tracer feature until the end of the period. No partial refunds will be given for turning off auto-renew in the middle of a subscription period.

—
Privacy Policy: https://www.shottracerapp.com/privacy-and-terms-of-use
Terms of Use: http://bit.ly/2nIqDgR

Shot Tracer App Details & Overview
Shot Tracer is an application developed by Visual Vertigo Software Technologies GmbH and released on iOS. The app is compatible with iOS 8.0 or later on the following devices: iPhone 7, iPhone 6, iPad 3, iPad Mini and iPod Touch 5G or newer.
Download the Shot Tracer app and use on your iPhone or iPad. Click here to download the app for Android or Windows devices.
Developer site: Support
What's new in version 6.1
AWESOME NEW FEATURES ADDED!! SAVE LANDING SPOT + Activated in the camera feature of Shot Tracer. It lets you take one video after another while marking and saving landing spot for each video in order for later tracking analysis. SWING COMPARISON + Found in the swing tracer feature. Select two swing videos that are hit from the same potion and stack them on top of each other in order to compare the two swings. COLOR PICKER TOOL + Choose the exact color for the tracer line to match your clothes by pointing on the desired color in the video. MULTI TRACER + Add videos and export videos with or without keeping previous tracer line. IMPROVED SWING TRACER + Swing Tracer got an overhaul make sure to check it out! Bugs fixed: + Fixed bugs resulting in an app crash during saving on some devices. ------------------------------------------ ------------------------------------------ PREVIOUS UPDATE INCLUDED FOLLOWING NEW FEATURES: ADD TARGET EFFECT: + Add an augmented flag or target circle into your shot tracer video. TURN OFF TRACER LINE: + Under Options you can now turn off traced line. This is great when you only want to have only special effects displaying without the traced line. MAP TRACER + Add a 3D map to your video which shows where the ball started and landed.
Rank in top paid apps
Ranking - Apps (iPhone) - United States
Release v5.2

Apr 24, 2017

$4.99 -> $6.99

Oct 28, 2016

Release v1.8

Oct 13, 2016

Release v1.7

Oct 2, 2016
---
App Data
Current Version: 6.1
File Size: 350Mb
Publisher:
Visual Vertigo Software Technologies GmbH
Users Rating: 2.00 (1 reviews)
App Images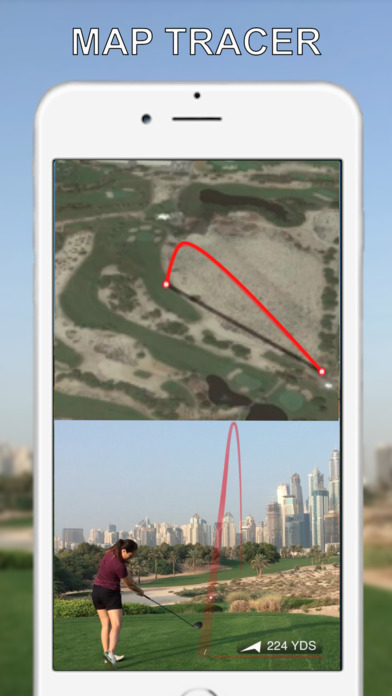 iPhone
iPhone
iPhone
iPhone
iPhone
iPad
iPad
iPad
iPad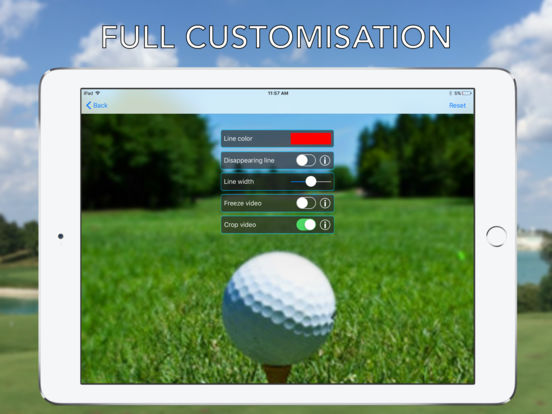 iPad
Shot Tracer App Add-Ons
Note: Add-ons available as in-app purchases
5 Stars 👍👍👍
Okay but needs to be better
5 stars all the way!
Tracks every shot
Not good
Golfballer
Convoluted