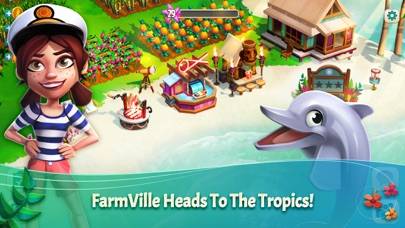 FarmVille: Tropic Escape
by Zynga Inc.
Universal App - Designed for both iPhone and iPad.
App Description
Friends, food and adorable animals in an island paradise!
Escape and create your own island adventure filled with mystery and fun new mini games in this colorful, free-to-play farm simulator from the makers of FarmVille, the number one farming franchise!
Build your very own beachside inn complete with island workshops, tropical crops, and exotic animals. Farm island fruits like pineapples, coconuts, and mangos to delight your guests. Catch fish with Capri the dolphin and explore with Odney the playful monkey! Explore uncharted areas, learn more about your island and find rare items and goods.
Adventure unfolds all around your island!
• DISCOVER ISLAND SECRETS AND TREASURES – Start story games with a tropical twist as you adventure with island guides like the archaeologist and surfing expert. Explore the bubbling volcano and ancient monkey temple on land. Venture into pristine waters to the coral reef and merchant shipwreck. Find hidden treasures and rare goods in the sunken city and other uncharted areas.
• EXOTIC ANIMALS – Build a Wildlife Center on your island with the help of Ting, the friendly Wildlife Guide. Feed treats to the cute, playful animals that live on your island paradise, and get a chance new island critters like Iguanas and Komodo Dragons! Earn amazing XP and rewards for photographing animals as souvenirs, so your guests can take a piece of paradise home with them! The more Wildlife Habitats you tend to, the more chances you'll discover rare and exotic island species!
• MINI-GAMES –Your exploration pays off! Try your luck with a game of chance to unlock decorations, characters and even more valuable resources like coins, gems and more!
• TRADE WITH OTHER ISLANDS – Use the trade boat to your advantage. Short on eggs? Buy the goods you need from neighboring islands. Have too many pineapples? Name your price and sell off extra crops and crafts. This farming simulator lets you live the business lifestyle- the more money you have, the more you can do on your island!
ADDITIONAL DISCLOSURES
• For specific information about how Zynga collects and uses personal or other data, please read our privacy policy at
http://www.zynga.com/privacy/policy.
• This game does permit a user to connect to social networks, such as Facebook, and as such players may come into contact with other people when playing this game. Social Networking Service terms may also apply.• The game is free to play, however in-app purchases are available for additional content and premium currency. In-app purchases range from $0.99 to $99.99.• You will be given the opportunity to participate in special offers, events, and programs from Zynga Inc and its partners. Use of this application is governed by the Zynga Terms of Service, found at
http://m.zynga.com/legal/terms-of-service.
Collection and use of personal data are subject to Zynga's Privacy Policy, found at
http://www.zynga.com/privacy/policy.
What's new in version 1.7.683
VALENTINE EVENT: Francois the Love Pirate is bringing romance to your island. But is he the love expert he promised, or merely out to conquer hearts? Shower him with special gifts and he'll give you Roses that earn great prizes. IN-GAME SCREENSHOTS: Find the Eye-in-the-Sky on his hang glider and tap on him to share screenshots of your fabulous island with friends. Show off a little! IMPROVED GAMEPLAY: We heard your feedback and made a batch of improvements, including: · More XP from crafting and Helicopter orders · Progress faster through upper levels · Better chance of getting Gold Sand Dollars from the Helicopter · Better rewards (including Sand Dollars) for the Daily Request · Reduced timers and easier ingredients on some harder crafts · Extra trees cost less Sand Dollars STICKERS: Have fun with our hilarious new Tropic Escape stickers!
Need help? Use our walkthrough or sign up and make your contribution today.
Rank in top paid apps
Ranking - Games (iPhone) - United States
FarmVille: Tropic Escape is currently ranked #200 on the iOS store in united states.
FarmVille: Tropic Escape is a highly rated app with 4.5 stars.
Updates
---
App Details
Current Version: 1.7.683
File Size: 188Mb
Users Rating: 4.50 (742 reviews)
Game Overview
The FarmVille: Tropic Escape app game is now available for free on iOS. The application is compatible with iOS 8.0 or later on the following devices: iPhone 7, iPhone 6, iPad 3, iPad Mini and iPod Touch 5G or newer.
Download FarmVille: Tropic Escape and play on your iPhone or iPad (See button below). If you have an Android or Windows device, you can find links to download this app here.
Developer site: Support
Screenshots
iPhone
iPhone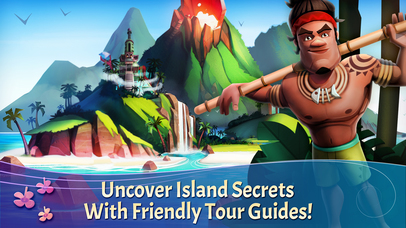 iPhone
iPhone
iPhone
iPad
iPad
iPad
iPad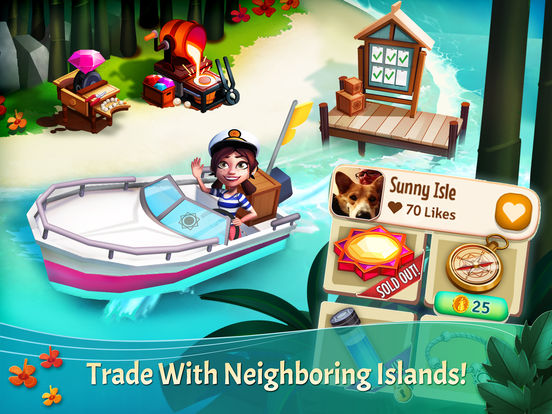 iPad
FarmVille: Tropic Escape Has Add-Ons
Small Bundle of Golden Sand Dollars
Note: Add-ons available as in-app purchases
From 1-5 stars

Good stuff

A money maker

TROPIC ESCAPES

Super cute

Takes me away to an island frame of mind

روعة