Dungeon Warfare
by Jin Man Kim
$3.99 > $2.99
** Minimum hardware: iPad 4, iPad mini 2, iPhone 5s **

Dungeon Warfare is a challenging tower defense game where you become a dungeon lord to defend your dungeon against greedy adventurers.
As you successfully purify your dungeons throughout the world from the pesky invaders, you will gain access to more powerful traps and devious utilities.

Gain experience from killing the invaders to permanently upgrade your traps.

Game Features

IT'S A TRAP!
Choose from 26 unique traps with 3 upgradeable tiers each.
Traps that infilct pain - Dart Trap, Spike Trap, Bolt Trap, Inferno Trap.
Want to go physical? Place traps that mercilessly throw mighty warriors into the pitch black abyss - Spring Trap, Harpoon Trap, Push Trap.
Gather a force of your own by using summoning portals to instigate a chaotic brawl.

ENVIRONMENTALLY UNFRIENDLY
In Dungeon Warfare, the environment preserves you!
Launch a huge rolling boulder to crush everything on its path.
Reroute enemy path towards a busy minecart track to smash the invaders away.
Contaminate ancient lava pool with a bunch of adventurers.

MUCH LEVELS, SUCH AWESOME
Over 40 enemy base are waiting to belong to you.
Mix your own difficulty by combinine 12 difficulty mode runes for more challenge.
Endless mode for endless hours of gameplay (unlocked after obtaining the Infinity rune)

ONE DOES NOT SIMPLY UNLOCK ACHIEVEMENTS
Unlock more than 30 achievements designed for everyone - ranging from casual gamers to hardcore gosus.
Some of the achievements are specifically designed to cater to your OCD needs.

Need help? Use our walkthrough or sign up and make your contribution today.
Dungeon Warfare App Details & Overview
Dungeon Warfare is a strategy video game for iOS, developed by Jin Man Kim. The app is compatible with iOS 8.0 or later on the following devices: iPhone 7, iPhone 6, iPad 3, iPad Mini and iPod Touch 5G or newer.
Download the Dungeon Warfare app and play on your iPhone or iPad. Click here to download the app for Android or Windows devices.
Developer site: Support
What's new in version 1.01
Thank you for playing Dungeon Warfare! Here comes the first update with the much needed iCloud save support. New Features * Added iCloud save support (accessible in the menu) * You can now install consumable traps instantly with 3D Touch (on iPhone 6s and newer) * Added a pro tip regarding the 3D Touch support Balance Changes - Due to many people complaining about the game's difficulty, we have decided to buff the Breeze rune. This will allow players to breeze through particularly difficult stages. * Breeze rune life bonus has been increased from 10 to 20 * Breeze rune enemy unit health penalty and movement penalty has been increased * Breeze rune XP penalty has been decreased from -40% to -20% * Blood rune XP bonus has been increased from 30% to 35% Miscellaneous * Moved Encyclopedia menu to the help menu * You can now sell tier 4 Barricade * Fixed various minor bugs
Rank in top paid apps
Ranking - Games (iPhone) - United States
Dungeon Warfare is currently ranked #191 on the iOS store in united states.
Dungeon Warfare is a top rated app with 5 stars.
The app is currently $2.99, instead of its regular price of $3.99.
$3.99 -> $2.99

Jul 14, 2017

$1.99 -> $3.99

Dec 31, 2016

$3.99 -> $1.99

Dec 19, 2016

$1.99 -> $3.99

Nov 4, 2016

$3.99 -> $1.99

Oct 28, 2016
---
App Images
iPhone
iPhone
iPhone
iPhone
iPhone
iPad
iPad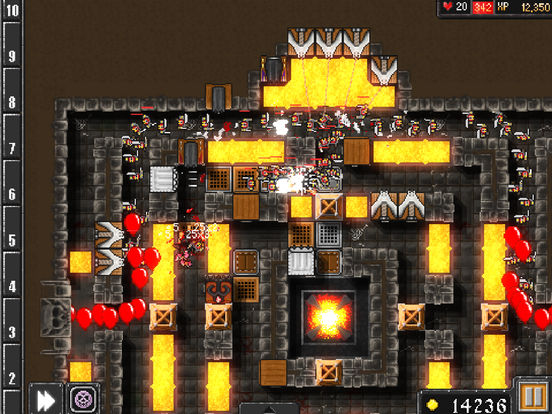 iPad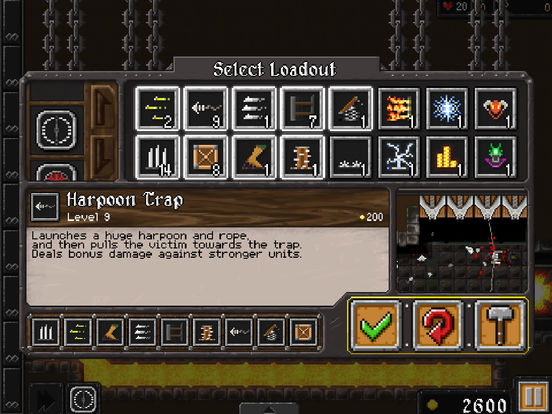 iPad
iPad
Dungeon Warfare App Add-Ons
No add-ons has been found...
One of the very best TD games!
Soooo Good
Seriously the best TD game on iOS
Don't let the graphics fool you...
amazing game but...
Amazing game
Pure Tower Defense