Electro-Harmonix, a pioneer since 1968 in the field of sound effects pedals for musicians, has produced an app which is a faithful digital re-creation of their circa 1980 analog cult-classic, The MINI-SYNTHESIZER.

Available for iPad and iPhone (IOS version 8.0 or later), the EHX MINI-SYNTHESIZER accurately delivers all the vintage synth sounds of the original plus modern updates.

EHX President and Founder, Mike Matthews stated: "Fans of vintage synths will appreciate the apps ability to recreate the original's warm analog sounds and deep funky bass, but because it's so affordable ($2.99 for phone, $4.99 for tablet) and user-friendly, parents, educators and non-musicians will love it, too."

The MINI-SYNTHESIZER app comes with 25 presets and the ability to store an almost unlimited number of user presets programs. Audiobus and inter-app audio capabilities are included as well as Aftertouch for iPhone 6s, 6s Plus.

Intuitive, flexible and powerful control are provided by the MINI-SYNTHESIZER's 12 sliders and nine switches. Here's a breakdown of the user interface:

OSC Section

PITCH slider lets the player raise or lower the pitch of the note by +/ 1 octave
SUBOCTAVE slider introduces a note one octave below what's being played for extra bottom
OCTAVE UP switch causes the note being played to jump up one octave.
TUNE knob lets the player tune the MINISYNTHESIZER to other instruments and sound sources over a +/ 50 cents range.

FILTERS Section

PHASE RATE slider adjusts the speed of the phase shifter
FILTER START sets the start frequency of the filter sweep
FILTER STOP sets the stop frequency of the filter sweep
SWEEP RATE controls the speed of the filter sweep
PHASE switch turns the effect on/off
2X FILTER switch changes how the audio passes through the filters (either in parallel or in series)
Q switch sets the amount of resonance on the filter sweep
RETRIGGER switch turns the filter retrigger on/off

DELAY Section

TIME slider adjusts the delay time up to two seconds
FEEDBACK controls the number of echo repeats
BLEND adjusts the mix of the original signal and the echo repeats
DELAY switch turns the effect on/off

REVERB Section

AMOUNT slider adjusts the reverb effect level
BLEND slider controls the mix of the wet and dry signals
REVERB switch turns reverb on/off
REVERB>DELAY switch lets the user place either Delay or Reverb first in the effects chain for a variety of cool sound effects.

MISCELLANEOUS CONTROLS

VOL (Volume) slider adjusts the MINISYNTHESIZER's overall sound output level
POLY/MONO switch toggles between polyphonic (four notes can be played simultaneously) or monophonic (only one note can be played at a time) modes
PRESETS popdown menu displays the presets available and allows the user to instantly select one
HORIZONTAL slider lets the player adjust the keyboards sounding range over an expansive eightoctave range.
RIBBON Interface lets the player perform portamento (glide up or down to pitch), vibrato and other expressive playing.

The easy-to-use Electro-Harmonix MINI-SYNTHESIZER App is loaded with great sounds and features and is sure to appeal to serious musicians and non-musicians alike.

LIMITATIONS

There is a known issue with old iPad and iPhone devices (pre2012) and the emulation will cause a CPU overload.
For iPad 2nd gen, iPad 3rd gen, iPad 4th gen, iPad mini 1, mini 2, mini 3, and iPad Air, polyphonic mode limits to 3 voices instead of 4 voices for Holy Grail REVERSE reverb.

DOWNLOADING iPHONE VERSION ON iPAD

The iPhone version is not meant to perform optimally on the iPad. Be aware that if you download the iPhone version on the iPad you are more prone to glitches and crashes than having the iPad version on the iPad.
Mini Synthesizer for iPhone App Details & Overview
Mini Synthesizer for iPhone is an application developed by Electro-Harmonix and released on iOS. The app is compatible with iOS 8.0 or later on the following devices: iPhone 7, iPhone 6, iPad 3, iPad Mini and iPod Touch 5G or newer.
Download the Mini Synthesizer for iPhone app and use on your iPhone or iPad. Click here to download the app for Android or Windows devices.
Developer site: Support
What's new in version 1.1.0
- MIDI Input and Output Functionality Implemented/Improved - MIDI Aftertouch Issues Fixed - Preset File Sharing - MIDI Mapping File Sharing - Older Devices Optimized - Full functionality implemented except for Reverse Reverb (limited to 3 voices)
Rank in top paid apps
Ranking - Apps (iPhone) - United States
Initial release v1.1.0

Jul 29, 2016
---
App Data
Current Version: 1.1.0
File Size: 53Mb
Publisher:
Electro-Harmonix
Users Rating: 3.00 (3 reviews)
App Images
iPhone
iPhone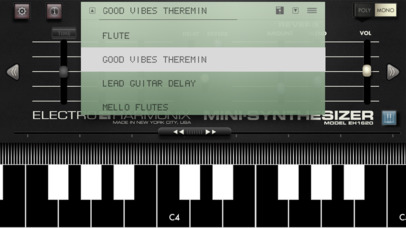 iPhone
iPhone
iPhone
Mini Synthesizer for iPhone App Add-Ons
No add-ons has been found...
Mini Synthesizer for iPhone Reviews (See all reviews)
Really cool!!
Good Features
Works awesome.
Great!
amazing, all encompassing synth app
Amazing!
Fantastic!