Featured Price Drops - Apps & Games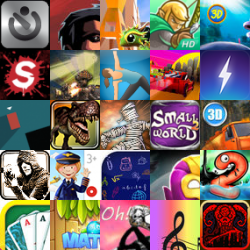 We've picked 42 iPhone, iPod touch & iPad apps that are now on sale, including: Self Timer,...
We've picked 27 iPhone, iPod touch & iPad apps that are now on sale, including: MPro, HapLand,...
Saving Money On Apps
---
Save money with price drops on your favorite apps with Appsmenow.
Our goal is to help you save money on every app you download from the Apple's App Store. Browsing over a million iOS apps on iTunes and hundreds of gaming websites can be a great waste of time. Our up-to-date lists are designed to filter out the useless stuff and to recommend the most relevant and latest news and advice for your iPhone or iPad.
We monitor iTunes around in real time for any price drops and price changes on your favorite iOS apps. Using our exclusive promo codes you will receive special deals and discounts not available anywhere else.
Our Guides
---
Your source for iOS app reviews, tips & advice for getting the most out of your iPhone and iPad.
We monitor all the top sources and players for the latest tips, answers and walkthrough videos for your favorite iPhone/iPad apps and games. So rather than wasting time searching multiple sources, you can always find the latest most up-to-date guides on AppsMeNow.
I like Twitter:-). I enjoy the "new Twitter" much better than the "old Twitter" for several reasons. First, my friends comments and their posts are
easier to find. Secondly, I enjoy the colors, but would like lighter colors---dark colors are downers in my humble opinion.
Lastly, like the changes, but allow members to
Great Information on movie from the beginning. Love that you have great information on the actor's and actress and movies made from the beginning I love the old movie.There made
clean .
Enjoying this game.... I have loved Smurfs ever since I was little and this game gives me a chance to be part of their story. I wish all the glitches
would go away, but they remind me that real life is full of glitches too. Enjoy it thoroughly!